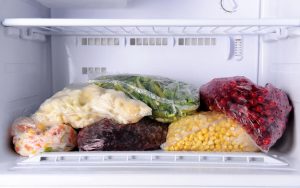 The county 4-H Food Preservation leadership is offering a 
Freezing Workshop
 on 
Saturday, November 9, from 1-3:30 p.m. in the County Government Center, Elkhorn.
  This hands-on workshop is open to all youth, grades 3-13.  4-Hers are welcome to sign-up their non-4-H friends.  During the workshop, participants will prepare applesauce and butternut squash for freezing, and each participant will go home with a sample of each.    Cost is $5 per youth; checks should be made payable to the Walworth County Senior Leaders' Association.  Pre-register by November 1st at noon by replying to this email or calling
262-741-4959.    
When you pre-register, share the following for each participant:  1)  first and last name, 2) grade level; 3) email address; and 4) phone number for parent/guardian on November 9.
This workshop is limited to first 12 youth who pre-register.  Please inform us immediately if you pre-register and your plans change so that youth on the waiting list to attend (if relevant) can be contacted. 
Questions?  Contact 4-H Food Preservation Key Leader Marlene Schoenbeck at 262-723-4211 or committee member Diane DeBaere at
262-248-8354 or dlccountrygirl54@yahoo.com.