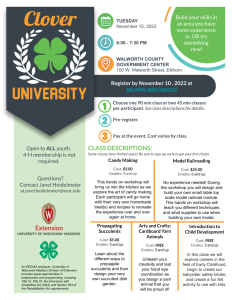 Clover University is back! Join us for a night of hands-on project-related workshops on Tuesday, November 15 from 6-7:30 pm at the Walworth County Government Center. Workshops range from candy making to model railroading to arts and crafts (click here to see a full list and description of available classes). Choose between one 90 min class or two 45 min classes. Registration is open now through NOON on Thursday, Nov 10. Some classes have limited space so be sure to sign-up today.
Sign-up here: go.wisc.edu/xgcx1i
If you have any questions please reach out to Janel at janel.heidelmeier@wisc.edu!