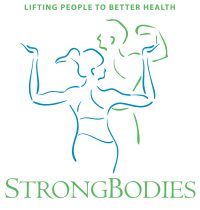 The Strong Bodies Program is a fun, hands-on way to make positive changes to help you move more, eat better, meet new people, and improve your general health and well-being. A weekly exercise program for men and women of all ages, classes will include progressive weight training, cardiovascular exercise, flexibility, balance activities, and nutrition education.
UPDATE SUMMER 2022 – NO CURRENT CLASSES SCHEDULED
CLASSES HELD:  Strong Bodies – Wednesdays and Fridays 9-10 am, also Mondays and Wednesdays 11AM-Noon. *Monday/Wednesday schedule only applicable if enough members enroll for that time slot.
Advanced Strong Bodies – Mondays,Wednesdays, Fridays 9-10 am. Walworth County Government Center, 100 W. Walworth Street, Room 220, in Elkhorn. In order to receive the highest benefits of the classes, participants should make every effort to attend all classes. 
CLASS FEE: The cost for classes is as follows – Strong Bodies is $25 and Advanced Strong Bodies is $35.
If you need REGISTRATION ASSISTANCE or wish to LEARN MORE:
Please Division of Extension Walworth County (262) 741-4951. 
Exercises are safe and effective for women and men of all ages, including those who are not in perfect health. Anyone who has been mostly or completely inactive for the past few years and is interested in improving their health, vitality, and well-being is encouraged to attend.
No matter how old you are, you do not have to get weaker with age. Exercise can help you stay vital, strong, and independent throughout your life.
People with health concerns such as arthritis, heart disease, osteoporosis, diabetes, obesity, and back pain often benefit the most from an exercise program that includes lifting weights a few times a week.
Research shows that a program of strength training…
BENEFITS PHYSICAL HEALTH
Improves bone density
Reduces falls
Improves arthritis symptoms
Increases flexibility
Increases strength
BENEFITS MENTAL HEALTH
Improves mood & attitude
Decreases depression
Allows you to sleep more soundly
Increases energy level
Socially, allows you to enjoy others' company & build a new circle of friends
Take a step toward a healthier lifestyle, and join the Strong Bodies Program today!