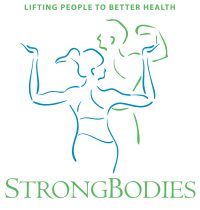 The Strong Women Program is a national evidence-based community exercise and nutrition program targeted to midlife and older individuals. Dr. Miriam E. Nelson and colleagues have developed and evaluated two curricula. The first is a strength training curriculum to help individuals maintain muscle mass, strength, and function as they age. The second is heart disease prevention curriculum that focuses on aerobic activity and nutrition.
The Strong Bodies Strength Training Program grew out of research published by Dr. Miriam E. Nelson on bone density in older adults, which became popular through her first book, "Strong Women Stay Young".  The program began in 2003 with the development of the StrongWomen Strength Training Program curriculum and StrongWomen workshops, which train women to become program leaders. The program is now called Strong Bodies.
The Strong Bodies – Healthy Hearts Program grew out of a later book in Dr. Nelson's Strong Women book series.  The primary objective of Strong Bodies – Healthy Hearts is to help men and women nationwide reduce their risk of heart disease, the number one killer of both women and men, by providing nutrition and fitness programming in a community based setting to both men and women.
Since 2003, over 2,500 leaders have been trained throughout the United States and Canada.  Strong Bodies Ambassadors and Tufts University program directors have collectively held over 140 workshops for new leaders since 2003.