Bee Hotel Flyer
Walworth County will be the host county for the annual Farm Technology Days event July 19-21, 2016. It's expected that thousands of people will be coming to this event from all over Wisconsin and the Midwest. This event has a strong community education component and the planning committee has developed many exciting opportunities for local community partners to become involved. One of these opportunities is for classrooms from across the county to engage in creating BEE HOTELS to showcase at the event!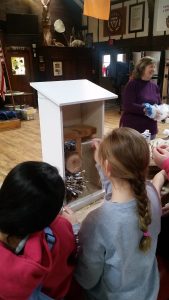 The UW-Extension is looking for classrooms from around the county that would like to build a bee hotel to display as part of a large pollinator habitat demonstration area. Each bee hotel will be displayed at Farm Tech Days and labeled with the school and classroom that built it. Classrooms will have the choice to get their bee hotel back and use it as an educational tool or it can be donated for display at one of the Walworth County parks.
We want to make this process as easy as possible and can support participating classrooms. A team of UW-Extension staff and Master Gardener Volunteers are available to partner with teachers to answer questions, provide classroom lessons about pollinators, and provide sample design ideas. This support is optional and classrooms are welcome to work independently on this project.
---
The cost of the project depends on how elaborate of a bee hotel the teacher/class would like to create. It could be as simple as rubber banding several drinking straws together or an elaborate hotel. Most materials are inexpensive and can found outside, such as twigs or small branches with holes in them. With this said, the school is responsible for the cost of the materials.
UW-Extension staff and volunteers will pick up the bee hotels from each school that participates at the end of the school year and bring it back to school if you'd like to add it to your school yard. Teachers are not responsible for transporting them.
It will be up to you how many hotels you would like to build. It could be one that is a joint effort with several classes involved or one for each class. Whatever fits best with your curriculum and time. We just ask that they are not so big that they can't be moved! Creativity and innovation is encouraged!
The bees are outside and will find the hotel on their own! If you build it and they will come! Once spring arrives, it's encouraged that they are put outside.
The time commitment will depend on the teacher and how much they'd like to incorporate pollinators, bees, nature, etc. into their curriculum. A simple bee hotel could take 1-2 hours to build and one hour to gather some information from the children that we will be asking. One example of a question will be how many bees they think will live in the hotel? Example questions will be email to teachers in February. These questions and the answers will be posted with the bee hotel at Farm Tech Days and are designed to nurture curiosity.
If teachers are ready to go with this project, they can start at any point. If support is needed we can schedule that as needed.
Educational Resources
Examples and pictures of bee hotels can be found with a quick internet search.
---
For more information on this project, check out the Bee Hotel Flyer.
If you have any questions, please contact Christine Wen at 262-741-4958 or christine.wen@ces.uwex.edu.