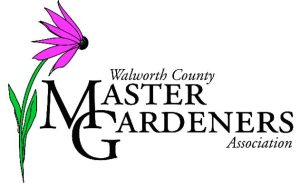 Join The Master Gardener Association!
The Walworth County Master Gardener Volunteer Association (WCMGVA) is a group of men and women throughout the county that have completed training and certification through the University of Wisconsin's Master Gardener Program. Our members volunteer in a variety of activities that support our community and our environment. We also strive to share research-based horticultural information with people in our community. 
Link to the Online Reporting System (ORS)
Master Gardener Volunteers are required to enter their volunteer service and continuing education hours using the Online Reporting System (ORS). If you need help with this system, please contact Julie Hill (julie.hill@wisc.edu) or Suzanne Markus. If you would like to write your hours down on paper first and keep track at home, please see this Time Tracking Sheet as a way to help keep track of your hours before entering them into ORS. But remember, they still need to be entered into ORS by October 1st of every year. If you need to make arrangements to have your hours entered into ORS or need training, please contact Julie or Suzanne.
Master Gardener 2020 Meetings (Every 2nd Wednesday of the month)

2020 Jan Business Mtg
Association Dues
Dues: $20 for Walworth County Master Gardener Volunteer Association
$5 for Wisconsin Master Gardener Assn. dues
(membership is not required to be an active Master Gardener Volunteer, though it is encouraged!)
WCMGV Board Meeting Agendas (3rd Thursday of the month)
All members are welcome to attend board meetings to listen to the business of the board. Members wishing to address the board and be added to the agenda need to contact the president of the board by the second Friday of the month. Agendas will be posted here by the end of the day the Monday before the board meeting.
WCMGV Board Meeting Minutes
2019 Master Gardener Board Meeting minutes
Walworth County Master Gardener Volunteer Association Project List
As a volunteer, you can join any of these projects and accrue your volunteer hours. There are projects scattered all throughout Walworth County so you can choose the ones that are closer to where you live.
For more information on the Master Gardener Volunteer Program, take a look at the Wisconsin Master Gardener Program website
Visit our Youtube Channel for the Master Gardener Program and don't forget to hit that subscribe button to keep up with everything Master Gardener!
Master Gardener Program Youtube Channel
For Horticulture questions or the Master Gardener Program contact:
Horticulture Outreach Specialist Julie Hill @ 262-741-4958 or email at julie.hill@wisc.edu