Trying to decide what career might be right for you? Explore some intriguing science-related career possibilities while meeting and interacting with real world scientists. Join us for Scientists Live, a virtual 4-H career series set to kick off on March 4 via Zoom. Eight consecutive 30-minute episodes will happen on Thursdays from 12:15-12:45 p.m. through April 22. Doesn't fit your schedule? No problem. At your request, we can send you a link to access the recording. Register to participate individually. …or if you are an educator, sign up to participate as a class or group. Sign up at least 24 hours before the first episode you plan to attend. Participation is absolutely free.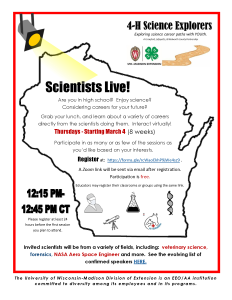 Youth & Educators: Register

HERE

.
Educators may register their class or group.