Check out our 4-H Google Calendar with updated upcoming events and meetings!
4-H is a youth organization that belongs to the members, their families, and the volunteer leaders that make 4-H possible. Professional leadership is provided by University of Wisconsin-Extension Youth Development faculty. The goal of 4-H is youth development.
4-H is for kids in the 3rd grade through one year after graduation from high school. Younger youth may join as Cloverbuds when they are in K-2 and at least 5 years old.
Members choose a club close to home and attend club meetings once a month. They may select one or more projects from over 50 areas such as rockets, photography, animals, cooking or nature. Members work on their projects during the year and then exhibit them at the Walworth County Fair.
Each 4-H family receives a monthly newsletter listing dozens of 4-H events and activities that the member and his or her family can take part if they choose.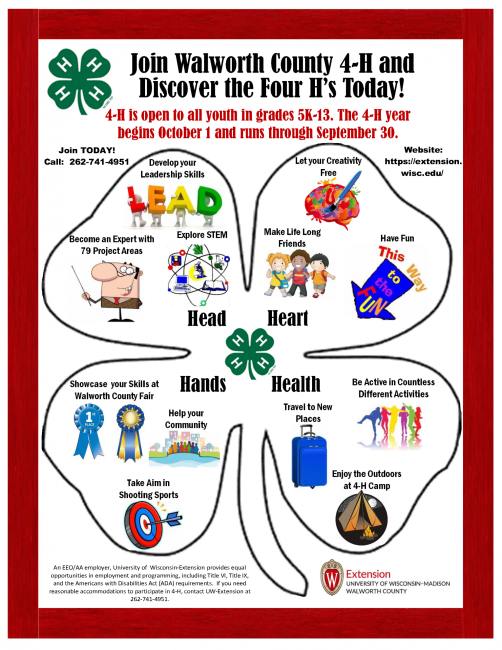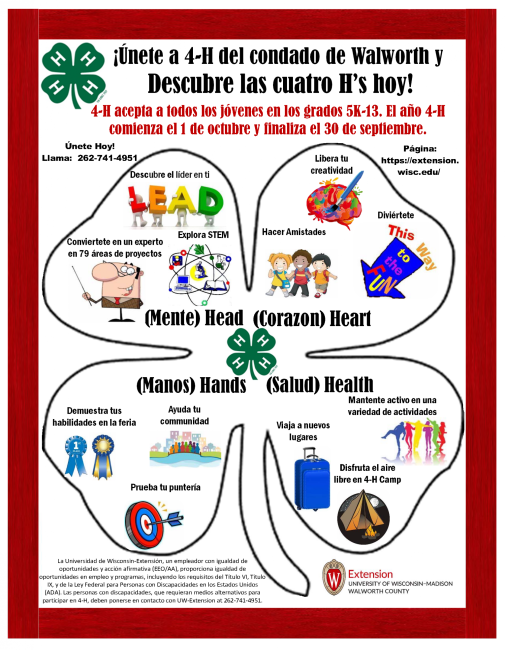 ---
Have questions?
Contact one of the Walworth County UW-Extension 4-H Staff. Not sure who to contact? Take a look at our Walworth County 4-H Program Staff Breakdown to see who can best answer your question.
Janel Heidelmeier

4-H Program Educator

Phone: 262-741-4960

Fax: 262-741-4955



Please stop by the office, call, or email with any 4-H related questions!
---
Recent 4-H Posts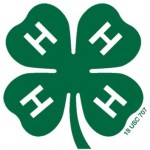 Discover 4-H
This fantastic event is a great way to discovering if 4-H is a good fit for your family. Your family will learn about what 4-H is, what projects are available and your family can interact with other 4-H youth! For grades K-5, this event will be in October 2020. Registration deadline is September 20. Click […]