What is Financial Coaching?
Financial coaching is having one-on-one sessions with participants to assist them in fulfilling their life goals. This is completed between a coach and the participant through encouragement, advice and the drive of the financial participant. A coach can be a great asset to have because they can a guide to self-control and can adjust to the participants ever changing financial needs and situations. Coaches are not "experts" but largely assist the financial participant in setting out realistic goals and ongoing behavior change.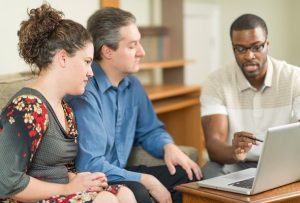 All financial participants travel through different parts of life and that includes college, having a family, career changes, health concerns, mortgages and so on. The purpose of financial coaching is to set goals and again, these are goals that will be set up by the coachee. To achieve goals, a plan must be implemented and some type of accountability should be set so that goals are reached. The whole point is to move the participant forward by becoming aware of any problems that are preventing them to reach financial wellness and addressing those problems through behavioral changes like building skills, monitoring credit scores, savings, and debt repayment. If interested in a coaching session click on the following links:
To register for a financial coaching session please email Amanda at amanda.kostman@wisc.edu or call at 262-741-4961.
Interested in becoming a coach?
WalCo Volunteer Financial Coach Position Description
General Description: Volunteer Financial Coaches agree to complete the Volunteer Financial Coach
Training and provide one-on-one coaching for individuals/families that are seeking to accomplish
financial goals.
Nature of Position: The volunteer receives 6 hours of training in the financial coach process, basic money management, strategies for dealing with financial problems, credit and debt management, savings, coaching and goal setting techniques and community resources. Some home study may be required. Following the training, each volunteer agrees to provide volunteer budget coaching with at least two individuals/families within one year of completion of training. If interested, click on the links below for full details:
Financial Coach and Coaching Brochure
If you are interested in becoming a coach, please email Amanda at amanda.kostman@wisc.edu or call at 262-741-4961.