Foodborne illnesses affect an estimated 48 million Americans every year, or one in six individuals. Fortunately, foodborne illnesses are largely preventable. Extension can help you keep up to date on current food safety topics, product recalls and provide steps to help keep your family food-safe.  Please go to https://healthyliving.extension.wisc.edu/topics/food-safety-and-preservation/ fof more information.  
A popular topic in any year is home food preservation. Extension offers free research-tested recipes and tips for safely preserving the bounty of your farm or garden. Learn more about using a pressure canner, drying fruits and vegetables at home, fermenting delicious dill pickles, and much more.  Always follow an up-to-date research tested recipe from Extension to ensure that you protect the health of loved ones as you preserve food at home.
When it comes to flavor and taste, few things compare to home-canned produce fresh from the garden. The home canning and preserving season will be here before we know it, so now is a good time to start preparing.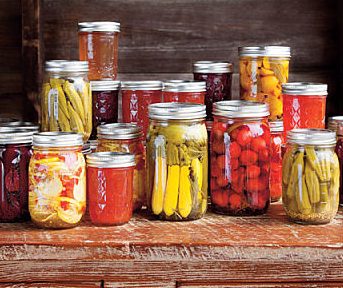 "Preserving food from your garden or orchard can be a good way to enjoy the bounty of your garden and orchard all year round," says Barbara Ingham, University of Wisconsin-Madison, Division of Extension food scientist. "But be sure to follow research-tested recipes for safe, high quality food that your family will enjoy."
Recipes that are not precise, that call for "a pinch" of this ingredient or "a pinch" of that ingredient; recipes that are not tested in a laboratory; or those that contain outdated or inaccurate canning information, can result in products that may be unsafe to consume. Ingham offers three general guidelines for safe food preservation.
Inspect and repair any food preservation equipment at the beginning of the season. Now is a good time to inspect canners or food dehydrators to make sure all equipment is in working condition. Start now to collect approved canning jars and lids for use during the season. Canning jars that use two-piece, self-sealing metal lids are recommended for home canning. Jars should be free of nicks or scratches. A "must" every canning season is new flat lids. Metal screw bands that are not bent or rusted can be reused.
Have dial-gauge pressure canners tested for accuracy. A pressure canner is essential for canning low-acid vegetables, meats, fish and poultry. Pressure canners come with either a dial-gauge or a weighted-gauge. Dial-gauge pressure canners should be tested each year for accuracy. The Walworth County UW-Madison, Division of Extension offices offers free dial-gauge testing; call ahead for availability of this service.
Always follow an up-to-date tested recipe from a reliable source. This is perhaps the most important step in preparing for home food preservation, according to Ingham. Cookbooks and old family recipes are not reliable sources of tested recipes that meet current food safety recommendations. Consult the UW-Madison, Division of Extension office for recipes that will ensure you are canning safe, high quality foods.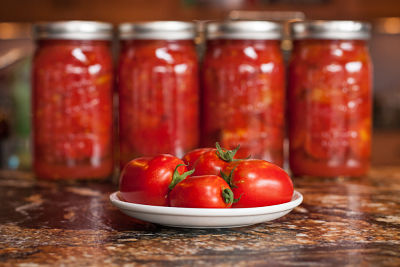 "More tomatoes are home-canned than any other product.  Home-canned tomatoes can be so delicious. But many people are still unaware that tomato-canning recommendations changed dramatically way back in 1994," says Ingham. "I answer questions every year from consumers who are not aware that you must add acid to home-canned tomato products to ensure safety. This is just one example where even though it's tempting to return to a family-favorite recipe, it's important to update your canning recipes as guidelines change."
You can find the most up-to-date recipes, how-to videos, online lectures and more to help you safely can fruit, jams and jellies, meat, pickles, salsa, tomatoes, and vegetables; plus information on freezing fruits and vegetables at the "Safe and Healthy: Preserving Food at Home" blog at http://fyi.uwex.edu/safepreserving.
"Food safety is, and should be, a primary concern when home canning any type of food, from pickles to meat. The UW-Madison, Division of Extension sets itself apart in providing up-to-date research-based information," says Ingham. "Begin the food preservation season by updating your resources so that you can be sure that you are preserving safe, high quality food for your family to enjoy."
Current in person program options being offered in Walworth County:
Overview of Food Preservation
Freezing Fruits and Vegetables
Making Jams and Jellies
Canning Vegetables Safely
Canning Tomato Products
Time to Make Pickles
Drying Foods at Home
Storing Garden Produce for Safety and Quality
To schedule a program, contact Amanda Kostman at amanda.kostman@wisc.edu or call 262-741-4961.
Canning Fruits Safely (B0430), 36 pages
Canned fruit can be a delicious addition to any family meal. Recipes have been updated and expanded to include steps for processing safe, high-quality fruits from the market or your home orchard.
Canning Meat, Wild Game, Poultry, & Fish Safely (B3345), 32 pages
Canned meat, wild game, poultry, and fish offer wonderful opportunities for exciting and flavorful meals. Because ofChronic Wasting Disease (CWD), the guidelines were updated to include information for safely processing venison. An expanded recipe selection includes research-tested family favorites.
Canning Salsa Safely (B3570), 16 pages
What will you do with all those tomatoes? Follow these recipes for safe and easy salsa your whole family will enjoy. These guidelines are for Wisconsin home garden tomato and pepper varieties, and a few new fruit salsa recipes are included. Salsa recipes have been research-tested to ensure they contain enough acid to be processed safely in a boiling water canner at Wisconsin elevations.
Canning Vegetables Safely (B1159), 24 pages
What could be more delicious than winter meals with vegetables from your summer garden? Follow these guidelines for safely canning vegetables in a pressure canner. This publication was revised to incorporate current research findings and updated for Wisconsin home garden varieties, conditions, and elevations.
Freezing Fruits & Vegetables (B3278), 24 pages
Would you like to enjoy bright, crisp garden green beans all year long? How about ripe, juicy raspberries? Freezing lets you enjoy the bounty of your garden and orchards all year long. This publication presents research-tested guidelines for safe preparation and preservation of peak-of-the-season fruits and vegetables.
Homemade Pickles & Relishes (B2267), 60 pages
Crispy pickles are the highlight of many family picnics. Guidelines for genuine crock pickles and many newly updated recipes for quick pack pickles are included in this bulletin. For a tasty treat, try new recipes for frozen pickles. Research-tested recipes ensure safe, high- quality pickles to share with family and friends.
Making Jams, Jellies, & Fruit Preserves (B2909), 65 pages
Favorite home-prepared treats include fresh strawberry jam, peach butter, or blueberry syrup. Guidelines include newly updated, research-tested recipes for delicious jams and jellies, fruit butter, syrups, and preserves. This publication was expanded to include recipes for low-sugar or  no-sugar products.
Tomatoes Tart & Tasty (B2605), 32 pages
Canning tomatoes can be fun and very rewarding. This publication offers guidelines for safely canning tomatoes from home gardens. It was revised to incorporate current research findings and updated for Wisconsin tomato varieties, conditions, and elevations. Research-tested recipes have been reviewed to ensure safe, high-quality products.
To order copies of any publication, visit the Learning Store or call 877-WIS-PUBS (877-947-7827).
Wisconsin Governor Doyle signed the "Pickle Bill" (Assembly Bill 229) into law in February 2010. This new law, along with an emergency rule which clarifies points of the bill, exempts a person from having to obtain a license to sell home-canned fruits, pickles, salsa and other naturally acid and acidified products. Find out more.
Do you hope to go into business selling your cheesecake or marketing your famous barbeque sauce? Learn the steps needed to start a small food business in Wisconsin by reading this fact sheet.
The National Center for Home Food Preservation is your source for current research-based recommendations for most methods of home food preservation. The Center was established to address food safety concerns for those who practice and teach home food preservation and processing methods.
Additional Resources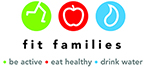 julio boletín de Fit Families
¡Es la temporada de los mercados de agricultores! Sal y disfruta de todos los diferentes mercados en el estado. Hay mercados que suceden todos los días de la semana dependiendo en la ciudad. Muchos de estos mercados aceptan los cheques de WIC para mercados agricultores (Farmer's Market Checks). ¡No olvide sus bolsas! Las van a […]