Upcoming Food Preservation Workshops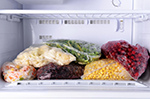 4-H Freezing Workshop
The county 4-H Food Preservation leadership is offering a Freezing Workshop on Saturday, November 9, from 1-3:30 p.m. in the County Government Center, Elkhorn.  This hands-on workshop is open to all youth, grades 3-13.  4-Hers are welcome to sign-up their non-4-H friends.  During the workshop, participants will prepare applesauce and butternut squash for freezing, and each participant will […]
---
Canning Fruits Safely (B0430), 36 pages
Canned fruit can be a delicious addition to any family meal. Recipes have been updated and expanded to include steps for processing safe, high-quality fruits from the market or your home orchard.
Canning Meat, Wild Game, Poultry, & Fish Safely (B3345), 32 pages
Canned meat, wild game, poultry, and fish offer wonderful opportunities for exciting and flavorful meals. Because ofChronic Wasting Disease (CWD), the guidelines were updated to include information for safely processing venison. An expanded recipe selection includes research-tested family favorites.
Canning Salsa Safely (B3570), 16 pages
What will you do with all those tomatoes? Follow these recipes for safe and easy salsa your whole family will enjoy. These guidelines are for Wisconsin home garden tomato and pepper varieties, and a few new fruit salsa recipes are included. Salsa recipes have been research-tested to ensure they contain enough acid to be processed safely in a boiling water canner at Wisconsin elevations.
Canning Vegetables Safely (B1159), 24 pages
What could be more delicious than winter meals with vegetables from your summer garden? Follow these guidelines for safely canning vegetables in a pressure canner. This publication was revised to incorporate current research findings and updated for Wisconsin home garden varieties, conditions, and elevations.
Freezing Fruits & Vegetables (B3278), 24 pages
Would you like to enjoy bright, crisp garden green beans all year long? How about ripe, juicy raspberries? Freezing lets you enjoy the bounty of your garden and orchards all year long. This publication presents research-tested guidelines for safe preparation and preservation of peak-of-the-season fruits and vegetables.
Homemade Pickles & Relishes (B2267), 60 pages
Crispy pickles are the highlight of many family picnics. Guidelines for genuine crock pickles and many newly updated recipes for quick pack pickles are included in this bulletin. For a tasty treat, try new recipes for frozen pickles. Research-tested recipes ensure safe, high- quality pickles to share with family and friends.
Making Jams, Jellies, & Fruit Preserves (B2909), 65 pages
Favorite home-prepared treats include fresh strawberry jam, peach butter, or blueberry syrup. Guidelines include newly updated, research-tested recipes for delicious jams and jellies, fruit butter, syrups, and preserves. This publication was expanded to include recipes for low-sugar or  no-sugar products.
Tomatoes Tart & Tasty (B2605), 32 pages
Canning tomatoes can be fun and very rewarding. This publication offers guidelines for safely canning tomatoes from home gardens. It was revised to incorporate current research findings and updated for Wisconsin tomato varieties, conditions, and elevations. Research-tested recipes have been reviewed to ensure safe, high-quality products.
To order copies of any publication, visit the Learning Store or call 877-WIS-PUBS (877-947-7827).
Wisconsin Governor Doyle signed the "Pickle Bill" (Assembly Bill 229) into law in February 2010. This new law, along with an emergency rule which clarifies points of the bill, exempts a person from having to obtain a license to sell home-canned fruits, pickles, salsa and other naturally acid and acidified products. Find out more.
Do you hope to go into business selling your cheesecake or marketing your famous barbeque sauce? Learn the steps needed to start a small food business in Wisconsin by reading this fact sheet.
The National Center for Home Food Preservation is your source for current research-based recommendations for most methods of home food preservation. The Center was established to address food safety concerns for those who practice and teach home food preservation and processing methods.
Additional Resources