---
Extension Walworth County
100 W. Walworth Street
P.O. Box 1001
Elkhorn, WI 53121
Phone: 262-741-4951
Fax: 262-741-4955
Please stop by the office, call, or email with any horticulture related questions!
---
Recent Horticulture Posts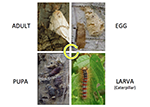 Are you seeing these caterpillars on your trees or hiding underneath things left lying around the yard? They are spongy moth caterpillars (formerly known as gypsy moth) that are busy eating and getting bigger and bigger until they get ready to change into their adult moth form. The spongy moth has escalated into one of […]
---
This past winter was particularly hard on evergreen trees and shrubs. This spring it's been a common sight to see evergreens with brown needles which is a sign of Winter Burn. The University of Minnesota has a great article to help learn more about Winter Burn and how to deal with plants that are effected by it.