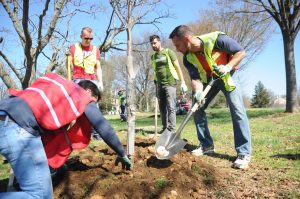 UW-Extension and the WI Department of Natural Resources brings you several tree planting workshops happening this fall. Community public works, park employees and others should be very excited about these informative workshops. The workshops consist of classroom instruction and outdoor demonstrations on planting techniques, tree species, post-plant maintenance and treatment, nursery stock inspection and more!
Instructors
Ryan Rodefer (B.S. Urban Forestry) earned his ISA CTSP certification and now leads safety programs at Wachtel Tree Science Inc. He is involved with the Wisconsin Arborist Assocation providing trainings and speaking engagements.
Mary Pederson (B.S. Environmental Science, Forest Management) began her career at Wachtel in 2016. She specializes in tree care such as planting, pruning, tree health, etc. Pederson offers her knowledge of tree inventory, urban forest management and Emerald Ash Borer Response Plans.
Workshops
There are several workshops available throughout the state of WI. The closest ones in Southeastern WI are Waukesha and Bristol. Refreshments and lunch are provided. The workshop brochures with detailed information including costs are listed below.
Waukesha Oct 31st Urban Forestry Workshop
Bristol Oct 17th Urban Forestry Workshop