Virtual Learning Community
The Virtual Learning Community is an opportunity to experience fun, hands-on programming via live Zoom sessions. Enrollment in the Wisconsin 4-H Program is not required to participate.  Additionally, some adult sessions are also being offered.
For a complete list of currently scheduled programs, visit: https://4h.extension.wisc.edu/opportunities/calendar/.  (This calendar is constantly being updated, so check back often.)
---
Some upcoming workshops you might be interested in are:
Design a Parachute Challenge (February 15, 2021, 6:30-7:30 p.m.)
Glitter Calming Jar (February 24, 2021, 6:30-7:15 p.m.)
Explore Monoprinting Techniques (March 2, 2021, 6:30-7:30 p.m.) 
Sessions will be led by UW-Madison Extension, Wisconsin 4-H Program Coordinators online.
Register at:   v2.4honline.com/#/user/sign-in
Need help registering? View the 4-H Online Program Registration: How To Guide
Pre-registration is required to receive a confirmation email containing the Zoom session link along with a list of at-home supplies needed, prior to each session. 
---
Design a Parachute Challenge
Mon., February 15, 6:30-7:30 p.m.
Develop, design, and test a parachute that meets the design challenge of carrying one metal washer to the ground.  Are you up to the challenge? Enjoy a taste of STEM while designing, building and testing out your parachute design. Adults joining us will see how to replicate a virtual project meeting. We cannot wait to see your parachute creations!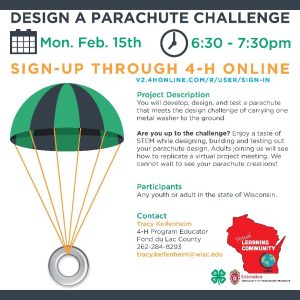 Glitter Calming Jar
Wednesday, February 24th at 6:30 p.m.
You will make a glitter calming jar and learn how it can be used to help you calm down and process your emotions.
At-Home Supplies Needed:  glitter glue, glitter, a jar/bottle, and super glue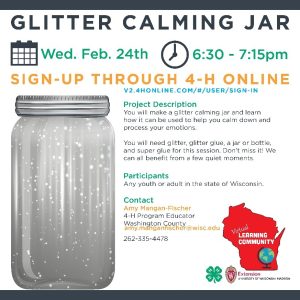 Explore Monoprinting Techniques
Tuesday, March 2nd at 6:30 p.m.
Monoprinting techniques can include combining artistic methods and multimedia such as painting and drawing with lithography, etching or woodcut. Monoprints are unique, spontaneous and expressive, allowing more scope for abstract compositions and more detailed prints than other types of printing.