Wonders of Wildlife
Grades K-8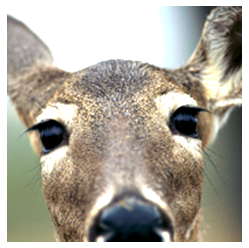 For this program, schedule by contacting 4-H Natural Science Key Leader, Kathy Tober: 262-642-5857.
A 50-60 minute presentation of fascinating facts about Wisconsin wildlife and unexpected historical connections between wildlife and agriculture. Presentations are tailored to audience age. Typical presentations include student interactions with a variety of artifacts including furs, skulls, and antlers. Once scheduled with Kathy, please submit the 2023 4-H Science Lab Registration Form and we will invoice you.

Cost is $15 per classroom. Available year round.
Scientists Live
Grades 8 thru one year post high school
This informal virtual careers series was created to help teens learn about science-related career options quickly and easily. Each of the 37 recorded episodes consists of a short 15-20-minute presentation given by a featured "scientist," followed by a 10-15-minute Q & A session during which live participants could ask questions. Sessions were recorded live in 2020, 2021, and 2022.

Use this LINK to access ALL 37 episodes and a "reflection guide" handout. Access is FREE.
Some of the careers included are: Aerospace Engineer ▪ Architect ▪ Artist ▪ Astronomer ▪ Biologist/Epidemiologist ▪ Biotechnology Specialist ▪ Cabinetmaker ▪ Chemical Biologist ▪ Dairy Animal Scientist ▪ Ecologist/Microbiologist ▪ Electrical Engeer/Electric Motor Reseracher ▪ Electrician ▪ Extension Livestock Specialist ▪ Extension Poultry Specialist ▪ Forensic Anthropologist ▪ Geneticist/Astrobiologist ▪ Greenhouse Manager ▪ Marine Biologist ▪ Materials Scientist ▪ Mechanical Engineer ▪ Medical Researcher ▪ Neurological Clinical Specialist ▪ Product Development Technologist ▪ Science Outreach Coordinator ▪ Science Outreach Specialist ▪ Shoreland & Land Use Specialist ▪ Veterinarian.
Access recordings at:
https://go.wisc.edu/y18738